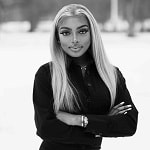 Latalia Howard
Residential Advisor
Latalia Howard joins Advisors Living as the culmination of a career steeped in luxury hospitality and an eye for aesthetics and a passion for real estate. Born and raised in Connecticut, Latalia spent her childhood as a ballet dancer and assisting her mother who worked as an Interior designer and event planner, skills that she learned from her mother and applied to her own adult career.
Latalia had her eyes set on moving to Boston since her father took her to visit the Museum of Science as a child. Her father was a real estate fanatic and would drive her around Boston's surrounding cities to see homes and land developments. She later graduated high school and moved to Fenway, where she studied Business Management at Emmanuel College for undergrad and graduated in 2019.
Her love for Boston and its real estate market never died. After spending her time building her impressive professional network in Boston's elite social scene by being her sociable, charming, and free-spirited self, she officially decided to pursue her post-grad career in real estate with Advisors Living.
Latalia works particularly well in fast paced environments and specializes in multitasking to achieve deadlines, with her professional career as a project manager for cosmetic and luxury designer fashion brands. She has years of expertise in luxury fashion as a stylist and personal shopper in Chestnut Hill. She is a serial entrepreneur and investor in small businesses and a former makeup artist for Christian Dior. She is a major foodie, making it her mission to try as many restaurants in Boston as she can. She is an avid traveler with her favorite spots being anything beachside. She also loves spending her time at sporting events and fashion exhibits.