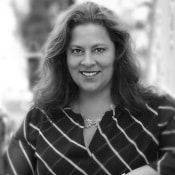 Kelly Batti
Vice President
Kelly Batti, first and foremost, is a people person. She is down-to-earth, loves meeting new people and just engaging in good old face-to-face conversation. Kelly especially enjoys sharing her insights of the city that she knows so well, Boston. If you're looking to buy or sell real estate locally, know that Kelly is going to get to know you first. And how refreshing is that?
With a background in retail banking, Kelly understands the financial impact of buying or selling a home and how stressful the process can be. That's why she is determined to use her talents to put clients at ease. In addition to her personal approach, Kelly knows that in today's world tech plays an important role. For buyers, she collaborates with Advisors Living in-house marketing team for top-notch marketing materials and will promote your property across multiple digital channels. Kelly has also expanded her knowledge base to become more expert in the areas of design and home staging, to her clients' advantage. She understands that those subtle changes will make a home more appealing.
Further into the process, Kelly offers strong negotiating skills and will do what it takes to ensure that clients get the best return on their investment.
For buyers, Kelly's thorough knowledge of the area helps her find clients the perfect home. And beyond the sale, Kelly is a great resource when it comes to providing ideas on local contractors, plumbers and other professional services.
As Kelly notes, "My clients know that I try my hardest to give them the best possible experience. They understand that they are not being rushed in any way and that, as their agent, I want them to be happy in their new home and will always go above and beyond to make sure exactly that happens."
Kelly is an Accredited Buyers Representative®(ABR), Certified New Home Specialist™(CNHS), Senior Real Estate Specialist® (SRES) and Residential Construction Certified™ (RCC). Fluent in Italian, Kelly studied Italian language and literature at the University of Massachusetts and business management at Suffolk University. She is an active community volunteer (JDRF) and frequently hosts fundraisers for the organization.